A frothy, and sour cocktail that is perfect on a summer night. The vodka sour is the perfect citrusy option for people who love a good pucker from their drinks.
History of the Vodka Sour
Sour cocktails have been created for centuries. Historians believe that the first sours were created by the British Naval Force. They noticed that combining liquors or spirits with citrus fruit juices reduced the prevalence of scurvy in sailors.
Soon, this combination of citrus fruits and alcohols became popular on land as well. The first original sour recipes (see also: Peach Whiskey Sour Recipe)were based on gin, rum, or brandy. It is unclear when other alcohols started to be mixed in this drink. Now popular sour cocktails include whiskey and of course vodka.
All sours are based off three primary ingredients: a base alcohol, a sweetener, and citrus juice. The vodka sour includes all of these ingredients and comes with its own special twist. It includes Angostura bitters and an egg white foam, which creates a beautiful frothy layer at the surface of the cocktail.
Bartenders use egg white foam to add texture to their creations. Egg whites are flavorless, and can easily be manipulated in airy and frothy textures. This creates a delightfully smooth and creamy drinking experience. The egg whites can also help to soften any harshness in a cocktail; in this case the sourness of the vodka sour.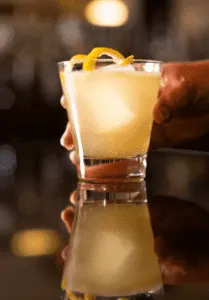 Vodka Sour Ingredients
Use your favourite brand of vodka to make this drink (we like Tito's). It is the star of the show, so make sure you use a distilled vodka with little to no harsh aftertaste. Avoid using any flavored vodkas for this cocktail. The citrus juice and the bitters will provide enough flavors in this drink.
Adding egg whites to modify the texture of a cocktail has been a tool in the bartenders handbook for over a century. When mixed properly, egg whites create a velvety foam which rises to the surface of your drink. This is an easy way to increase the novelty of a cocktail, and will improve the mouthfeel of an astringent and sour beverage.
To achieve maximum froth in a small amount of time, it is recommended to use the 'dry-shake' method. To do this, mix all the ingredients of your cocktail (including the egg whites), in a shaker without ice. Halfway through shaking, open your shaker and add ice. This frozen element will strengthen the foam created by the egg whites. Once you are done shaking, strain the cocktail, and watch your guests eyes go wide at the beautiful foam you have created.
Angostura bitters offer a layer of complexity to this sour drink. This is important, because sour flavors can overpower the palette. Sour flavors need other ingredients to play off of, otherwise it will completely numb your taste buds.
Bitters will also offer a delightful warm hue to your cocktail, which increases the visual appeal of a vodka sour. If you have never tried bitters before I strongly encourage you to add them to your liquor cabinet. They are extremely versatile, and offer rich botanical notes that elevate many different types of alcohols.
Both lemon and lime juice are required to create an authentic vodka sour. Both fruits offer different citrus flavors, and have different levels of sourness. Lemons tend to be slightly sweeter than limes, and are also less acidic.
Agave syrup or honey is essential for a vodka sour. Without injecting sweet flavors to your vodka soda, the cocktail will be too acidic to enjoy. My stomach hurts just thinking about drinking a glass of straight lemon and lime juice with alcohol.
Helpful Tips for Making the Perfect Vodka Sour
Using raw eggs in your culinary and cocktail endeavors will always carry some degree of risk. The USDA recommends using pasteurized eggs for recipes which include raw eggs.
To simplify the flow at your cocktail station, separate your eggs in advance. This will make it so much easier to make cocktails on the fly.
If you are vegan, and egg whites are not an option, you can use a product called Aquafaba. This is the strained liquid that typically comes in a can of chickpeas or any time of canned bean. It is a very similar texture to egg whites, therefore it has the ability to be shaken into a frothy foam.
Honestly, it can be hard to pick a good lime. They all look the same, and despite how squishy they feel, sometimes you open up the fruit and there is no juice inside! I always buy extra limes, I have little trust left in these fruits.
To maximize the amount of juice you get from a lime, press your palm firmly onto the fruit and roll it across your counter. This will help to soften the flesh of the lime, and will release as much juice as possible.
Final Thoughts
Vodka sour, like all cocktails, can be made with variations. Often people will opt to remove the Angostura bitters from their drink if they are not partial to the strong taste of this ingredient. Without adding bitters, the drink will be clear.
The Vodka Gimlet is made with vodka, lime juice, simple syrup, and omits any bitters or egg whites. It is a variation that is designed for lime-lover! People who adore acidic drinks will love this variation of the Vodka Sour.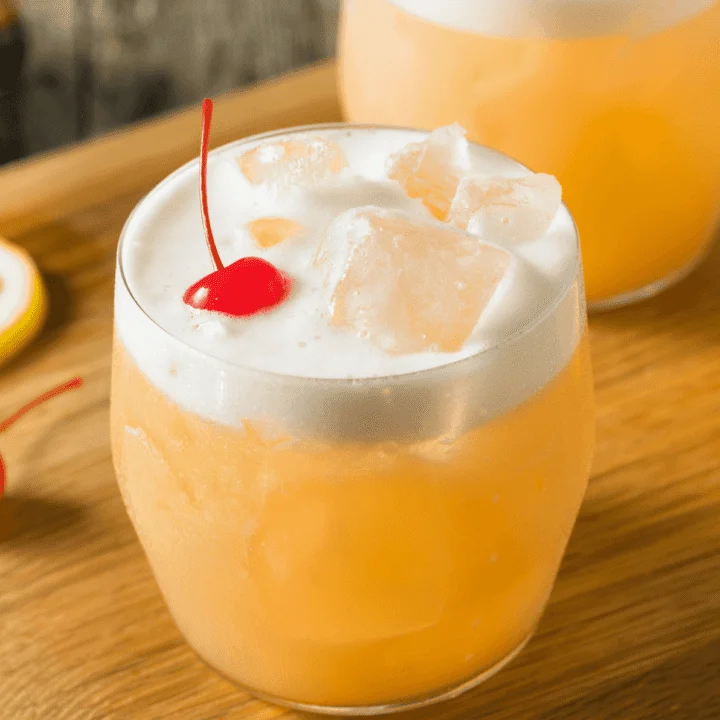 Vodka Sour
A Vodka Sour is the perfect drink for those who enjoy the tart, citrus flavor of lemons and limes. Made with vodka, lemon juice, lime juice, agave, and an egg white this refreshing cocktail is perfect for sipping on a warm summer day. The Vodka Sour is a classic drink and a staple of American bartending. Whether you enjoy your Vodka Sour shaken or stirred, this delicious cocktail will do the trick!
Ingredients
1 oz lemon juice
1/2 oz lime juice
1 egg white
maraschino cherry, to garnish, optional
lemon wedge, to garnish, optional
Instructions
Add all of your ingredients to a shaker, shake for 15 seconds
Add generous scoop to your shaker, and shake again with more force for an additional30 seconds
Strain, add ice, and garnish if desired. Enjoy!
Nutrition Information:
Yield:

1
Serving Size:

1 grams
Amount Per Serving:
Calories:

299
Total Fat:

0g
Saturated Fat:

0g
Trans Fat:

0g
Unsaturated Fat:

0g
Cholesterol:

0mg
Sodium:

66mg
Carbohydrates:

41g
Fiber:

3g
Sugar:

32g
Protein:

5g