A hybrid of the Pina Colada and a Strawberry Daiquiri. The Miami Vice Frozen Cocktail is refreshing, fruity, and a vacation-staple!
History of the Miami Vice Cocktail
The Miami Vice cocktail is a perfect option for anybody who does not know what to order when everything on the menu looks good! The Miami Vice Cocktail is an equal split of frozen Pina colada and frozen Strawberry Daiquiri. If you love rum and fruit cocktails, this beverage is perfect for you.
Online publications indicate that the Miami Vice Cocktail existed before the popular TV show aired on screen in the 80s. Maybe the show actually took after the cocktail, who knows? This drink may have started in the 80s, but to this day it continues to be one of the most ordered beverages in Miami. It is impossible to go to a night club or a beach bar and not see anyone sipping their pink and white Miami Vice cocktail.
We do not have any indication who created the first Miami Vice cocktail. Someone probably decided to blend two hit drinks together because they knew the two flavors would compliment each other well. And they were right!
Miami Vice Ingredients
Making a Pina Colada from scratch is easier than it sounds. You'll need cream of coconut, pineapple juice, alcohol, and ice. Truly, it is that simple. Some people prefer to buy and freeze pre-made Pina colada mix, which might be a better option if you are going to be serving a lot of guests and you need your supplies ready to go.
The same is true for the Strawberry Daiquiri. Many people assume the strawberries are the star ingredient for this cocktail, but personally I think an ingredient that elevates a strawberry daiquiri is the lime juice!
People shy away from adding enough lime juice, and the result is an over-sweetened strawberry-jam like drink. You need the acidity of the lime juice to tone down the sweetness. This will allow you to taste the actual fresh strawberries used in this cocktail.
As I mentioned above, Strawberry Daiquiri mix can be purchased pre-made. This will save you a lot of time and prep work, which may be helpful if you are making a lot of drinks In a short amount of time.
Both of these cocktails use rum. For fruity sweet beverages like a Pina Colada and a Strawberry Daiquiri, picking a coconut flavored rum or a sweet rum is usually the go to option. There are times when you may opt to use a spiced rum, which is better suited for drinks like iced teas, desserts, and hot beverages.
Most original rums hail from the Caribbean and other southern tropical destinations. They are made through fermenting and distilling sugarcane molasses. The molasses is what gives classic rum a rich, warm, dark brown colour. Check out our thoughts on the best rum for daiquiris if you're having trouble making a selection.
The Miami Vice is a sweet and potent tasting cocktail and calls for a clean rum. The sugary nature of the cocktail will mask most harsh flavors, so you do not need to use a top shelf rum for this cocktail.
Add a garnish to your Miami Vice to add a pop of color to your finished product. The most popular garnish is a pineapple wedge, some places will also include a little paper umbrella if you are ordering this drink while on vacation.
Tips For Making The Perfect Miami Vice Cocktail
Use the best frozen drink blender you can get your hands on when making any frozen cocktail. When you are blending ice, it needs to be blended with a very powerful set of blades to ensure the texture is completely smooth and silky. If you take a sip and you are chewing on ice, your blender may need an upgrade.
How you pour your mixes into your glass will directly affect which flavors you taste through your straw. If you pour your daiquiri mix in first, the bottom half of the drink will taste like strawberries, and the top will be heavy in Pina.
To properly enjoy a Miami Vice, the two mixes are meant to playfully intertwine in your glass. So, try to pour both mixes in at the same time. When you look at your tall vertical glass, the left side should be pink, and the right side should be white. Stick your straw straight in the middle of this cocktail, and enjoy the sweet and tangy notes simultaneously.
Final Thoughts
A Miami Vice is also one of the easiest mocktails to serve your guests. Even without any alcohol the drink is flavorful, appealing and brightly colored. Your guests will be thrilled to receive this upgraded option instead of a boring can of pop.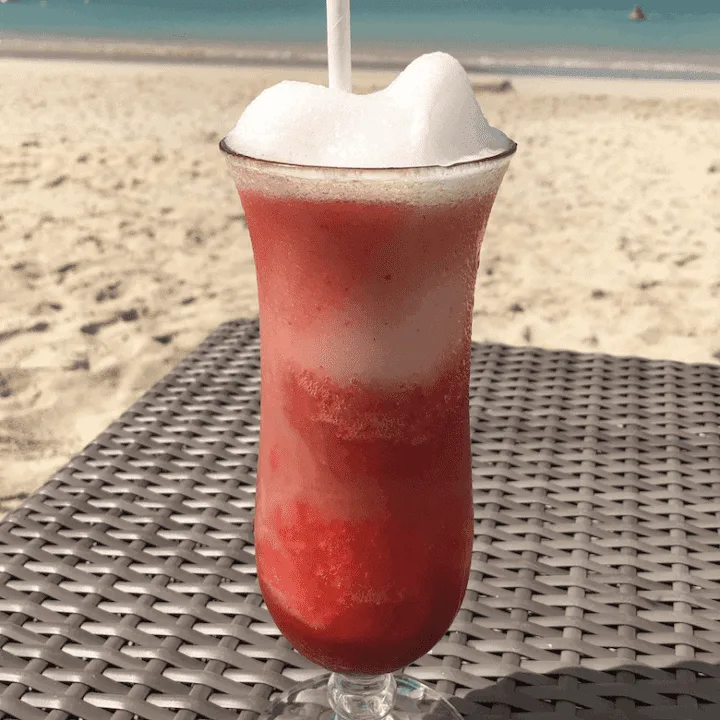 Miami Vice Frozen Cocktail
As a hybrid of the Pina Colada and a Strawberry Daiquiri, the Miami Vice Frozen Cocktail provides the tantalizing flavors of dark rum and pineapple or strawberry, which come together in perfect harmony in this delicious drink. Our dark rum is carefully selected to give this drink its smooth and refreshing taste, while the pineapple juice and strawberry juice add the perfect amount of sweetness. The result is a one of a kind cocktail that you'll want to enjoy again and again.
Ingredients
For the Piña Colada
2 oz pineapple juice
1 cup crushed ice
For the Strawberry Daquiri
1 cup washed and cut strawberries
1 cup crushed ice
1 oz lime juice
1/2 oz simple syrup
Garnish
slice of pineapple, optional
slice of strawberry, optional
Instructions
Make the piña colada mix first. Add everything into a blender, and set in the freezer until ready to pour.
Make the strawberry daiquiri mix afterwards. Add everything into a clean blender, and set in the freezer until ready to pour the Miami Vice Cocktail.
When ready, pour both of your mixes into a single tall glass, add a straw. Garnish with your favorite piece of fresh fruit and enjoy!
Notes
If you only have one blender, simply pour the piña colada into a separate container after blending.  Then rinse your blender and use to make the strawberry daiquiri.
The above recipe makes just 1 Miami Vice Cocktail.  Multiply ingredients proportionally as needed to make bulk batches of the drink!
Nutrition Information:
Yield:

1
Serving Size:

1 grams
Amount Per Serving:
Calories:

819
Total Fat:

36g
Saturated Fat:

29g
Trans Fat:

0g
Unsaturated Fat:

5g
Cholesterol:

34mg
Sodium:

275mg
Carbohydrates:

96g
Fiber:

15g
Sugar:

68g
Protein:

6g