Bar and Drink is reader supported. If you click a link on this page, then go on to make a purchase, we might receive a commission at no cost to you.
Stuck at home, wishing instead you were in paradise? Every sip of this tropical inspired drink will transport you closer and closer to the islands of Hawaii.
History of the Pearl Harbor Cocktail
The Pearl Harbor cocktail was created at the naval base in Oahu, Hawaii. After a long day of work, people wanted to relax and enjoy a beverage which reflected the beautiful scenery of the island. The bright green cocktail, known as the Pearl Harbour Cocktail, was said to have been invented in the late 1980s. It is currently unknown who exactly is credited with the invention of this drink.
Oahu actually translates to 'The Gathering Place', and is one of the larger islands in the Central Pacific. The local community wanted a drink that would reflect the sense of community seen on the island, and the easy-drinking cocktail instantly became a staple at bars across the island.
The cocktail is known for its fruity and sweet flavours. It is often served ice-cold, and is a great way to cool down after a day spent outside in the heat.
Overview of the Ingredients
The Midori liqueur is the staple ingredient that makes this cocktail so unique. The liqueur is melon flavored, and is bright green in color! This liqueur is what gives this cocktail the eye-catching green hue.
Midori liquor was originally an alcohol that was made in Japan. Americans learned how to make the product themselves, and now Midori is made in North America. The liqueur is considered to be quite sweet, and is used exclusively for mixing drinks. People do not take shots of Midori, and it is never sipped alone from a tumbler.
Vodka is the other staple alcohol used in this beverage. Chilled vodka works best for cold-beverages, so you may consider keeping a bottle in the freezer before preparing these cocktails. Remember, sweet cocktails will mask the strong flavors of vodka, so do not be fooled if you can barely taste the alcohol in your drink: it is definitely in there! Our go-to vodka for this recipe is Tito's.
The primary juice used for this cocktail is pineapple juice. In Hawaii, the juice is freshly squeezed from the locally harvested fruit. My mouth is watering just picturing the flavour. The mild acidity of pineapple cuts through the Midori and the Vodka, and the result is a balanced fruity cocktail.
As soon as this beverage leaves the bar and is served to you, all eyes will be on your drink. It is literally one of those cocktails that people turn their head to get a better look. This is partly due to the unusual color of the drink, but also because of decorative garnish! This cocktail should be adorned with pineapple and citrus fruits on the rim of your glass, as well as a cocktail skewer with maraschino cherries.
Tips for Making the Perfect Pearl Harbor Cocktail
Try to use pineapple juice with no sugar added when making this cocktail. If possible, try to get freshly squeezed juice to keep the drink as authentic as possible! The drink is already sweet enough, and too much sugar will totally mute out the fruity flavors of the drink, not to mention completely load you up on unnecessary calories.
The melon flavour can easily overwhelm cocktail drinks, so use this product sparingly. If you think you have added too much liqueur you have the follow options available to you: you can throw the mixture out and start again, or you can try to cut through the sweetness by adding in fresh lime juice. Often times an acid based ingredient will neutralize a sweet ingredient.
This drink is best served on the rocks: add generous amounts of ice to this cocktail. You may also want to try freezing chunks of pineapple and citrus fruits that you could add to your cocktail. This will count as your garnish while also keeping your beverage chilled.
Best Ways to Enjoy This Drink
Although people do not take shots of Midori, you can take shots of the Pearl Harbour drink! Essentially, this shooter is a micro-version of the cocktail, and it is prepared in a shot glass. If you love the flavour and enjoy this style of rapid-drinking, you may want to try it the next time you visit the bar.
This cocktail is often served at social events, including barbecues! It is an easy-to-drink option that your guests will love to sip on while spending time in the sun. People love the novelty of the drink, so be sure to lean into the aesthetic of this cocktail.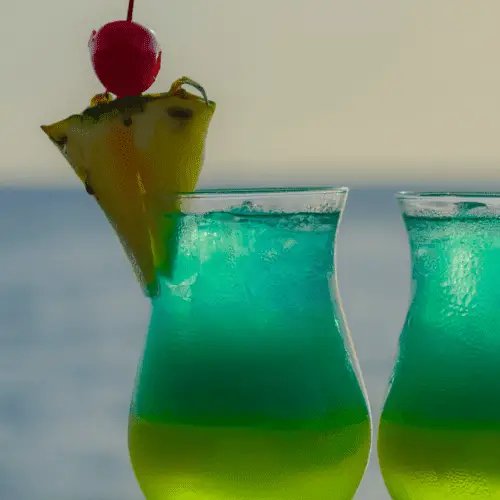 Pearl Harbor Cocktail
Stuck at home, wishing instead you were in paradise? Every sip of this tropical inspired drink will transport you closer and closer to the paradise of Hawaii.
Ingredients  
1

oz

vodka

1/2

oz

Midori melon liqueur

5

oz

pineapple juice

pineapple chunks

to garnish

1

generous scoop of ice

2

maraschino cherries

to garnish, skewered optional
Instructions 
Add ice to your glass. Use a clear vessel, to show off the bright green color of the drink.

Add the alcohols, pineapple juice, and ice to your shaker – and shake for one minute. Pour the cocktail over the rocks in your glass.

Garnish with fresh fruit, add a skewer of maraschino cherries. Enjoy!