The Old Forester 1920 Whiskey is a whiskey that is made to focus upon one period of historic expressions from the brand's history. It is part of a series that includes the 1870 Original Batch, the 1897 Bottled in Bond, and the 1910 Old Fine Whiskey. 
The Old Forester 1920, is, at 57.5%, the highest proof expression in the series. 
Old Forester is an American bourbon distillery, and it is actually one of the oldest bourbon distilleries inside the US, having existed both before and through prohibition.
While so many had to close, Old Forester received one of the few licenses to continue distilling, and selling for "medicinal purposes". 
The 1920 version is made to emulate what they made during prohibition. Our review today is not just to see if Old Forester 1910 is a drink for you, but also if the history behind it, and the extra proof in the drink actually make a difference. 
While there are many other Old Forester bottles you can get in Old Forester's Whiskey Row series, this one is probably one of the most historically significant beverages there are.
Of course, feel free to try out the others, but, today, we are focusing on this one particular bottle has to offer you.
A Prohibition Era Beverage
Like many others in the alcoholic beverage scene, Old Forester is in love with Prohibition, even though this period in history is far from associated with anything high-quality.
However, in spite of this, you can barely count the number of 'Prohibition Edition' spirits that have hit the market since that time. 
It doesn't half make you wonder if as a society we are really so eager to recreate the era of bathtub gin, or toilet wine. 
Okay, well, maybe that is an over-exaggeration. Old Forester had a license to produce a limited quantity of medicinal whiskey in the 1920s, and this meant that to recreate that experience, its defining characteristic is being bottled at a very hefty 115 proof! 
This spirit is bold, and in your face, although it may not pack quite the punch you might get from cask-strength whiskey.
The nose offers aromas of dried fruit and wood, in a pleasant balance, as well as notes of dried orange, grapefruit, as well as a mirage of florals, enough to even out through the haze of 57.5% alcohol! 
When you taste it on your palate the richness of this whiskey will always impress, it gives a chewy core, loaded with fruit, integrated oak, spike, and even some luxurious hints of licorice. 
It is luscious and rounded, a whiskey with some soul. 
The finish of this whiskey is on point, it improves on an already impressive start, building to a sweet and fulfilling conclusion. It is warming, however, not overpowering either. It is also lengthy on the finish, with echoes of both sweet fruit and tantalizing spice.
It is 100% a clear favorite of the Whiskey Row collection, and it is no surprise as to why. 
What It Has To Offer
The 1920 Prohibition Style is the third expression in the Whiskey Row Series. 
When you buy a bottle, you get to know a little of the history of this beverage.
"During Prohibition, only six Kentucky distilleries were granted permits to bottle bourbon for medicinal purposes. Brown-Forman, the maker of Old Forester, secured Permit KY-3. In 1920, the first bottles under this permit were produced." 
It later goes on to say that it is presented at 115 proof to match the typical barrel proof of that of the bourbon (see also: Best Barrel Proof Bourbons)after maturation. 
In terms of its history, it is obvious that the Old Forester 1920 has plenty to offer. And what we already know of its wonderful nose, taste, and finish are enough to make us strongly consider it.
However, we are hardly done, we know that any whiskey connoisseur will want more information than this before they buy a bottle. So, let us invigorate your senses with a little more information. 
Nose
Once we have had a good look at the bottle, the next thing we are faced with is how the drink smells. When it comes to tasting whiskey, you always want to catch that aroma before you let it take your palate on a journey. 
The Old Forester 1920 has a rich and powerful aroma. It bears dark fruit, burnt brown sugar, chocolate, and just a hint of bananas to make up the components. 
It is not a surprise, when considering the proof, that your nostrils get a gentle tickle from the traces of ethanol. 
The aroma is pleasant overall, and it can definitely be noted as a unique aroma in relation to other bourbons, especially modern bourbons we often come across today in bars.
Palate
Once you have taken in a whiff of what this bourbon has to offer your sinuses, you then face what it has to offer your palate as you take your first sip. 
It is big, it is bold, and it is immediately enjoyable. The rich flavor of barrel char, and dark chocolate play like a symphony against the delicate vivaciousness of caramel and crème brûlée. 
Its taste is captured with a hint of nuttiness, and smokiness too. You might even pick up a trace tang of coffee too. The taste reminds us of some of the better Old Forester Birthday Bourbons you may have tried. 
However, it is undoubtedly more pronounced, and better, than your taste buds may remember. It is a treat to the tongue. 
Finish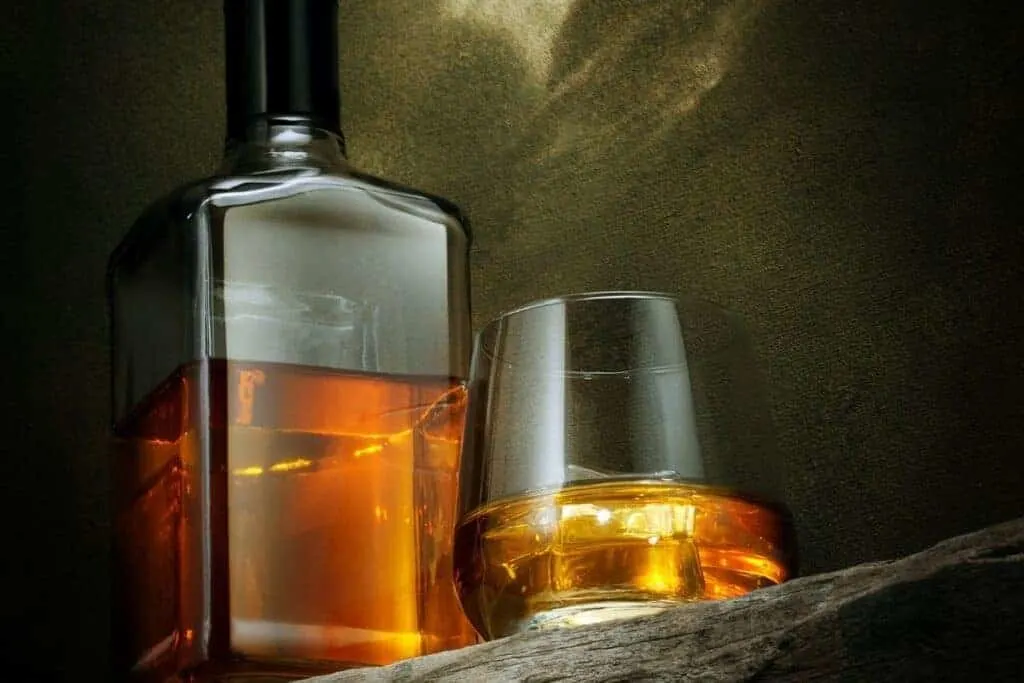 The finish is just as important, what you are left with after you have taken your sip and enjoyed its flavors. The finish is what lingers behind and leaves your mouth salivating for another taste of this unique beverage. 
The Old Forester 1920 gives you a finish of Allspice and pepper that pop but dissipate soon after, leaving you with a long-lingering finish without any introduction of new flavors. Plain, simple, but after all, less is more. It is a pleasing end to those introduced to the plate. 
The most prominent finish tastes are dark chocolate, barrel char, and that nuttiness. Almost like having a liquid, whiskey cake oozing in the back of your taste buds, as you restrain yourself from taking another swig too soon, savoring it. 
Individuality
Each bourbon is unique, however, one of the most unique factors this specific drink bears is its likeness to a stout beer. 
This does not mean that it tastes like a beer, but where you will often find that porters and stouts are often rich, chocolaty, and dark, the 1920 is a rich, dark, and chocolaty bourbon. 
The characteristics of this scream immediately, from the first aroma to enter your sinuses, to the last taste as it finishes. 
If you enjoy dark beers, you will likely also enjoy this bourbon too. 
While it does share some of the same traits as others in the Whiskey Row Series, it has a very different taste. The proof is higher for a start, however, it has a totally unique flavor profile too. 
One might suggest that this bourbon would make a decent pairing to a chocolatey dessert, as the aromas would match perfectly, although, we are not one to pair bourbon with a dessert. It would just pair well due to its flavorings. 
The Old Forester series have much else to offer in other areas too, but this one, in particular, has such defined characteristics. The 1920 seems to stand out, offering a better balance and an immediately enjoyable experience.
You do not need to analyze it or peel back the layers to really enjoy it. 
Cost
The 1920 is part of the Whiskey Row Series, which is a premium line extension, and this drink is, therefore, priced like so. Following suit with brands such as Buffalo Trace's E.H.
Taylor lineup, it is not surprising to see premium line extensions like this becoming more prominent now. 
Although, we could say that the 1920 Prohibition Style is just a standard brand, presented in an upscale package and flavor profile. But, we need to be aware of how intensely whiskey makers control what goes into bottles. 
It is a very competitive space, and better distillation practices, alongside more careful barrel selection, blending, and proofing can lead to a better final product. 
This is why we can't tell you if it is worth it or not, really, it is all up to you to decide. Only you can decide if you think the effort they put into taste is worth the price tag at the end. 
To Conclude
A unique drink, with a unique flavor, with a history behind it as rich as the liquid in the bottle. 
In our opinion it is definitely worth it, however, only you can really choose. If you are a collector who loves the historical aspect of the whiskey distillation industry, this is without a doubt an ideal purchase for you.
However, it really is down to the individual to markdown, how good any beverage is.