In any good cocktail bar or cabinet, nestled among the big-hitting rums, vodkas, whiskeys, and gins, you will find a tantalizing bottle that is a true mixology staple.
Responsible for adding sweetness and citrus warmth to bring your favorite flavors together, triple sec is a bartending legend for a good reason, providing a comforting harmonious base to the punchier top notes. 
Originating in France, triple sec means triple distilled. It is traditionally made by macerating dried orange peel in a base spirit, then distilling to get to the final product.
You may see it labeled as Curacao, which is due to some Dutch recipes using orange peel from the island of Curacao for flavoring.
Curacao often contains additional spices too, so if you're looking for a twist on your triple sec game, consider branching out in that direction. 
If you're serious about your cocktails, you'll have already sought out the best in your core spirits, and likely figured out some of your go-to liqueurs.
Don't miss out on upgrading your triple sec too. This article will walk you through some of the best triple sec offerings out there.
Our Best Triple Sec Reviews
Favorite Triple Sec
One of the biggest and best-known names on this list, Cointreau is a classic.
Featuring heavily in legendary cocktails like the Cosmopolitan (see also: Cosmopolitan Cocktail)and Margarita, the smooth, zesty flavor profile adds an instant dash of quality to your drinks.
It is also delicious served straight over ice and adds a festive twist to hot chocolates. 
Unlike some other triple secs on the market Cointreau is 80-proof, which makes it usable as a base spirit too.
It balances its higher proof with a rich sweetness and vibrant orange flavor, sitting in a real sweet spot between a syrup, a liqueur and a base. 
Another major plus for Cointreau is that due to its ubiquity, many cocktail guides are written with it in mind as the triple sec of choice for mixing.
This means that when you use Cointreau in your recipes, you're going to get the best expression of the drink you're making. 
Pros
Classic flavor – bright, zesty and sweet, Cointreau is a back-bar staple. 
Used everywhere – as a first-choice triple sec for mixologists worldwide, Cointreau is the orange flavor in a whole host of classic cocktails. 
Great straight-up – as an 80-proof spirit, Cointreau holds its own even served straight over ice. 
Cons
80-proof – while this makes Cointreau versatile, for some it can be a bit overpowered, and you might want to seek a less alcoholic mixer. 
Another bartending mainstay, Bols is an Amsterdam-based distillery that claims to be the oldest in the world.
They make a wide range of spirits, and their liqueur selection is the backbone to many a cocktail bartending menu. Bols Triple Sec is a Dutch classic with plenty to recommend it. 
With a less enveloping flavor profile than Cointreau, Bols is a clean and fresh triple sec that draws on the Dutch Curacao heritage – it still uses Curacao oranges in its recipe, with added botanicals like some classic Curacaos.
This gives it a delicious, lighter flavor that is a great addition to your classic cocktail repertoire. 
Bols Triple Sec is a mixing liqueur first and foremost, and is only 42-proof.
This makes it a versatile and easygoing cocktail ingredient, but it isn't really bullish enough to use as a base spirit and it is somewhat underwhelming as a solo drink, though it does work well as a classic frappe over crushed ice. 
Pros
Light and versatile – Bols Triple Sec harmonises well in cocktails rather than adding its own stamp to them. It's a team player!
Inexpensive – Bols are a heritage brand with centuries of knowledge and craftsmanship behind them, so the low price point of their triple sec is very appealing. You don't sacrifice anything in terms of quality. 
Ubiquitous – like Cointreau, every bartender knows Bols. You'll even see it called for specifically in some recipes, so you know you're on solid ground. 
Cons
Slightly anonymous – sometimes you want a triple sec that just brings other flavors together, and that's what Bols Triple Sec does. It doesn't have a huge character of its own, which might be a turn-off for some. 
A triple sec with a twist, Solerno Blood Orange is a popular alternative for adding a bit of variety to your cocktail-making. It's also great for sipping over ice, with a warm mouthfeel and bright, juicy flavor. 
Solerno Blood Orange is 80-proof, in the Cointreau mould.
Whole blood oranges are macerated in a lemon distillate, producing a complex and nuanced flavor profile that gives extra pep to a Cosmopolitan and more freshness to a Singapore Sling.
The lemon edge may make it slightly confused in more lime-heavy cocktails, with the Cosmo being about as far as you would want to take that flavor combination, so if you're planning a trip to Margaritaville this might not be the best traveling companion. 
Pros:
Something a little different – cocktail making is all about trying new things, and this is a classy, subtle way to give your drinks a little extra personality. 
Big, bright flavor – Solerno Blood Orange is complex and interesting enough to sip on ice, while also cutting through the mix in a cocktail with ease. 
Great as a base – being 80-proof, Solerno Blood Orange is more than capable of acting as a base spirit for cocktails, so you can expand your citrus-heavy repertoire in a new direction. 
Cons:
More expensive – it's a little less easy to find than the other names on this list, and you will pay a bit of a premium for it, but if you're a citrus-lover it's worth a try.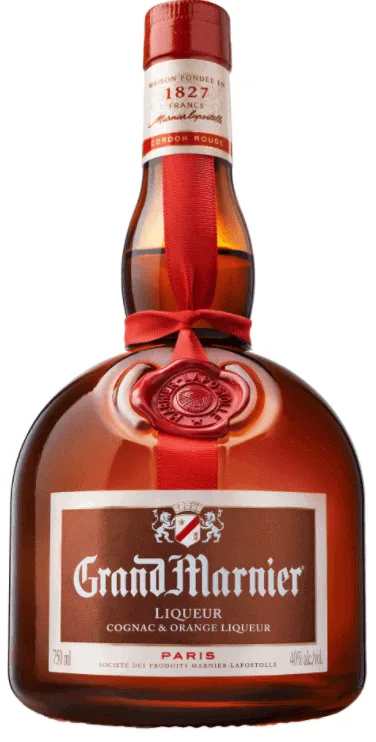 Grand Marnier Liqueur
Premium blend of cognacs with wild tropical oranges from the Caribbean
Exceptionally delicious in cocktails but can be enjoyed neat
Full of rich, developed, and complex flavor
Check Price on Drizly
Somehow, Grand Marnier is both an old standard and a wild card in this line-up.
The recipe dates back to 1880, and is a truly French classic based on cognac and bitter oranges.
It's on every back-bar worth its salt, but it still stands out with its complex and inviting flavor profile. 
That brandy base means that Grand Marnier has bitterness and warmth, a layered nose and a flavor that evolves in the mouth.
It's a little lighter in mouthfeel than some of the pure triple secs, but Grand Marnier is a truly exceptional sipping drink and gives a grown-up twist to classic cocktail (see also: Best Reusable Ice Cubes For Cocktails & Drinks) recipes.
A Daiquiri made with Grand Marnier has a real air of difference to it, and Grand Marnier pairs phenomenally with aged rums and whiskeys.
It has the strength of character to work as a base for an Old Fashioned on its own, which is not something you could say of the other options in this list. 
You can read more on the nuanced similarities and differences between Grand Marnier and Triple Sec here.
Pros
Classic but distinctive – a time-honored flavor that stands out from the crowd due to its brandy base. 
Stands up well to big flavors – Grand Marnier is your best choice for drinks involving aged spirits with strong personalities. 
A great base – you can use Grand Marnier as a base for citrussy cocktails, but it can also take the place of dark spirits. 
Cons
Distinctive – if you want a triple sec that blends into your recipe, Grand Marnier probably isn't it!
Final Thoughts
So there you have it, four very different styles of triple sec, covering the main variations that you will find. There are a multitude of other triple secs on the market, so go ahead and try them out!
Looking for triple sec recipes? Check out our mezcal margarita or rum margarita recipe next!