So many of us grew up with Dwayne 'The Rock' Johnson entertaining us as a wrestler, or as an actor. However, we never pictured him as a tequila brand owner.
However, by launching his own tequila- Teremana, he expressed his passion for the beverage.
Teremana tequila (see also: Teremana Tequila Review)is becoming a well-known brand, for its great taste, and its affordability.
It originates from the Mexican adoration for tequila, with a taste that is both smooth and sweet.
Its packaging is beautiful, and it also features Johnson's own signature in the branding.
Yet, we have all become accustomed to celebrities launching their own brands on multiple items, from clothing lines to aromatherapy, to makeup, and to alcohol, we cannot help but wonder if Johnson knows what he is doing, or if he just jumped on the branding bandwagon.
So, today, let's look at Teremana and see if it is, indeed, worth all the hype that it is getting.
Teremana Tequila
Celebrity brands are nothing new, we have seen it with the Kardashians, Britney, Madonna, Johnny Depp, and pretty much every other celebrity out there. However, we never really pictured The Rock being a part of it.
The Rock has a very loyal fan base, and he is much loved by almost everyone, so, it is no surprise that the launch of Teremana has received a positive response from the majority of his fans.
This tequila applies one of the most authentic processes in tequila crafting, and it is not at all surprising when we consider the type of person Johnson is. 'Terre' means 'earth', and 'Mana' is a Polynesian guiding spirit.
It is crafted by hand and brewed over a few days, over a fire. The tequila is a brilliant win both for fans of tequila, and fans of The Rock himself.
Teremana uses sustainable methods in its production too, recycling and reusing 100% of agave fibers in the process.
What is even better, is that Johnson actually researched and engineered these sustainable production practices himself.
A man who genuinely gets involved at the heart of his brand, rather than hiring others to do all the research. This is part of what makes it so great.
The brand also presents optimal quality and taste, even though it is affordable, not a commonplace trait in today's market.
However, before we get you too excited, let's talk to you a little about the main factors of this tequila, what it offers, the range, price, and so on.
What You Need To Know
Before you buy anything, a little research can go a long way.
Sure, you might be a big fan of The Rock, but it is worthwhile looking into the factors behind and around his new tequila brand.
Don't worry, you do not have to spend hours scouring the internet, instead, we have done this job for you.
The Price
We all know that a good beverage will cost, after all, you pay for what you get.
Right? Well, Johnson actually placed a specific focus on providing drinkers with premium quality at an affordable price.
The tequila is manufactured in small batches in Jalisco, Mexico, using various artisanal techniques.
Whatever of the two blends you buy, it will not cost you more than $40. The price is actually reasonable given the preparation and distillation process, and the fact that it is a celebrity brand.
Typically, other tequila from Jalisco, Mexico can cost you anywhere from $12.99- $43.99, so this tequila fits right into the typical price range, even though it is a celebrity brand.
The Range
There are two blends of Teremana Tequila that you can buy; Blanco, and Reposado (which we will talk more about later). They do not have all types of tequila just yet; such as Anejo, Extra Anejo, or Joven).
The Blanco option consists of 100% Blue Weber agave cultivated in the highlands of Jalisco. It offers sweetness, vegetal and unrested.
On the other hand, there is Reposado, which goes through the distillation process twice. It is also made from Blue Weber agave, and it is aged in ex-bourbon barrels!
These blends are easy on the taste buds which makes them an ideal beverage for sipping and savoring.
Health Factors
If you know anything about The Rock, you will know he is a man invested in the health of his own heart, and he wants you to be too. How?
Well, Teremana is an ideal alcoholic beverage for the health-conscious consumer, as it is surprisingly very low in calories. It is also amazingly a zero-sugar spirit, with zero-carbs, and zero-gluten too.
Really, it is the perfect drink for everyone and makes an excellent choice for classic cocktails and mixers.
The Rock's Attempt At Reimagining Tequila
Teremana Tequila is not a beverage designed for rowdy nights at bars and clubs. It is not intended for getting crazy. It is designed for slow-paces leisurely sipping.
The enjoyment might even be best savored with a slice of citrus fruit and some ice. Of course, let's not forget that a legitimate Mexican tradition, tequila is a drink ideal for celebrations and parties.
What Mixers And Cocktails?
While you can enjoy it at a leisurely pace, sipping it with a slice of citrus, and on The Rock (pun intended), you can also enjoy Teremana in mixers and cocktails.
The Blanco expression is best enjoyed in tequila-based recipes, whereas the Reposado is best for substituting whiskey or bourbon.
Some options would be;
An Old Fashioned (Reposado)
The Sunrise (Blanco)
The Spicy Manarita (Reposado)
The Minty Mule
Two Expressions
Now, we know that there is much to be said about Johnson's new tequila line, but if you are thinking of giving it a try, you may find yourself having to choose between one of the two expressions currently on offer.
Of course, you could buy both, however, the two options are both very different, so you need to know what you are getting into.
Let's take a look at what each has to offer.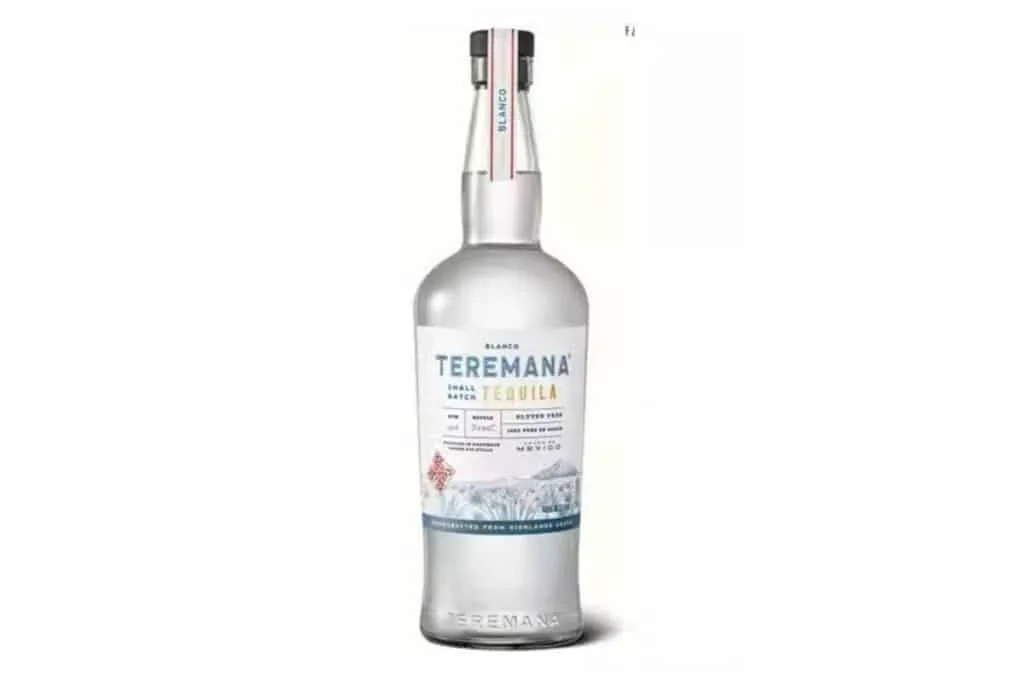 The Blanco is a pleasant tequila. It is nice and grassy, while it still retains a decent amount of flavor. There is a little of a burn, as you might expect, but it is not too crazy.
It makes a good tequila to use in margaritas, you will certainly enjoy it, and what it brings to the drink.
It will work well in a margarita and does not offer up that awful burning taste you might be used to with sine if the worst tequila out there.
It is a very tasty Blanco. It offers up the happy medium that you do not quite expect.
A balance of the tequila you are used to and a nice amount of flavor. It is certainly worth trying in a margarita to start with.
No products found.
The Reposado is the expression that really takes you by surprise. It has a unique smoothness and taste that you just do not expect to get from any tequila.
As you sip it on its own, you will get some unique flavorings from the wood casks it is aged in, as well as its own distinct tequila flavoring.
Find notes of vanilla, caramel, and still yet the grassiness of the tequila all in one tasty beverage.
It is worth trying in a few reposado tequila cocktails, you will find it will certainly hold its own. It is also worth trying it as a replacement in whiskey or bourbon drinks too.
This is an easy beverage to shoot (although not designed for this purpose), or to just sip on its own, on the rocks. However, it is not out of place in cocktails either, making this a very versatile tequila indeed.
The Teremana Reposado works as a tequila that takes some of the golden factors we see in whiskey and bourbons and smashes it all into one stellar drink, made in an extremely unique way with unique flavors and a distinct palate.
A Final Thought
The Teremana Tequila as made and branded by Dwayne 'The Rock' Johnson is a marvel we did not expect to see hitting our shelves. It has all the qualities we seek out in a good bottle of tequila.
Let's not forget that it is also a brand that has its heart set on satisfying its customers, promoting healthy habits in its low calories, with no sugars, carbs, or gluten. Of course, let us not forget its contribution to environmental sustainability too.
The Rock has certainly crafted something special here.
Johnson focused on his own love for tequila, business, and philanthropy. His own passion has made it worth the hype, and has indeed, also made it so great too.
We cannot lie, that The Rocks tequila, Teremana, is a brilliant tequila. However, we leave it up to you to decide what you think.
We also leave it up to you to decide which is the better one of the expressions- the Blanco, or the Reposado. Tequila is a great spirit anyway, but when it's The Rock's own, it is even better!