If you have ever craved a gin based drink that is both lemony and flowery, look no further. The playful Blue Moon Cocktail is exactly what you are looking for!
History of the Blue Moon Cocktail
When I see this drink served in a crystal coupe glass and it is prettied up with a lemon twist I am instantly transported to the roaring twenties. When I pick up the cocktail and enjoy my first sip I feel like I am at Jay Gatsby's birthday party, and I am loving every minute!
If your intuition is also telling you this drink had to come from the roaring twenties, you are bang on! This drink became famous in the 1920s and was the house drink at Joel's Bar. This New York City bar was famous and had many name changes over the years. It was renowned for being a watering hole that attracted bohemian folk, artists, and the bar offered nightly entertainment and live cabaret!
The vision for the drink was to create something easy to mix that was also refreshing. A fun surprise about the Blue Moon Cocktail is that it's barely blue at all instead, it is a delightful shade of purple that is very unusual in the cocktail scene. The novelty and easy-to-drink nature of this cocktail suited the bar well, and it quickly became a staple at Joe's.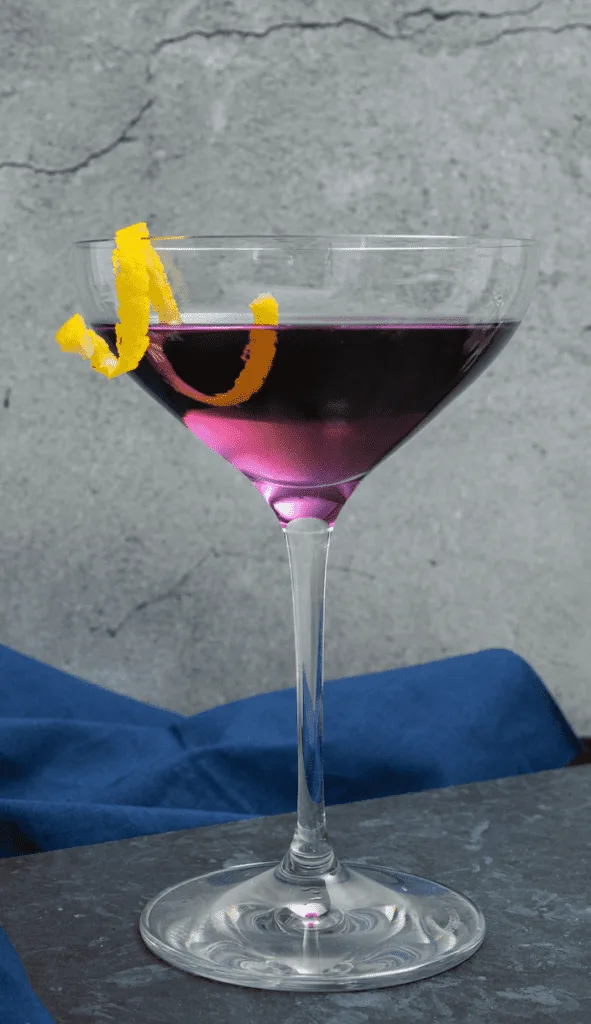 The origin of the name of this drink remains unclear to date. There is a theory it is related to the moon, referring to the popular saying about rare instances "once in a blue moon", but it has never been proven. I think the mystery of the name suits this drink perfectly and it's fun to romanticize the story and to use your imagination to fill in the blanks.
Unfortunately, Joe did not leave detailed notes about his cocktail creations, and he did not provide measurements for his recipes. The recipe shared in this article is the closest version available to the 1920s version of the Blue Moon Cocktail.
It is worth noting that a 1940's recipe was created which produced a pink and frothy version of the drink. This recipe called for Creme Yvette and egg whites, but it is no longer as popular as the 1920s original recipe.
Blue Moon Cocktail Ingredients
The Blue Moon Cocktail is a gin-based drink. The botanical notes in gin match perfectly with the flowery components of the Creme de Violette. The drier the gin, the more intensely botanical flavors will come through. Harsh pine notes may interfere with the delicate flavor of this cocktail. You may want to invest some time trying this recipe with different types of gin to find your ideal recipe.
Creme de Violette is a delicate liquor that was created in France. It has been infused with violet flowers and it boasts a beautiful purple color. Creme de Violette has been distilled for centuries, and it continues to have a strong foothold in the cocktail scene because of its unique flowery taste and easy-to-mix properties.
All great cocktails need to be properly balanced. The sweetness needs to be matched with sour notes, ideally from citrus fruit. This recipe calls for freshly squeezed lemon juice and you can adjust the portions as needed. The acidity cuts through the layers of flavor and enhances your experience of the drink. Remember to save a piece of lemon rind and form it into a twist: this will be the garnish for your cocktail!
Helpful Tips
Some individuals prefer their cocktail to lean towards the sweeter end of the spectrum. If you fall in this camp you have the option to add simple syrup to your recipe. Remember you can always add more syrup but you can not remove it once it has been blended in. I strongly encourage you to taste test throughout the process.
Choose a glass vessel with a wide rim. This will prevent your ingredients from separating and having one alcohol fall to the bottom of your glass. This drink is served straight up, which means that keeping your hand on the stem of the glass instead of the main vessel will delay how quickly your beverage warms up. If possible try to keep your cocktail on the table as much as possible instead of handling it throughout your evening or event.
More Blue Moon Facts
First, there was the Blue Moon Cocktail, and then there was the Aviation Cocktail! The latter is often mistaken for a Blue Moon cocktail because they both include Creme de Violette therefore they both share a purple-grey hue. The primary difference in ingredients is the Aviation Cocktail contains Maraschino liquor and it is garnished with a Maraschino cherry. Overall the beverage contains more alcohol and has a heavier more intense flavor profile.
The Blue Moon Cocktail contains delicate flavors that will pair best with light meals and appetizers. I recommend serving this cocktail alongside any type of seafood dish, including prawns with a fresh lemony sauce. You can also pair this cocktail with vegetarian thin-crust pizza that is garnished with fresh arugula or alongside roasted garlic and eggplant dip served with thin crostini.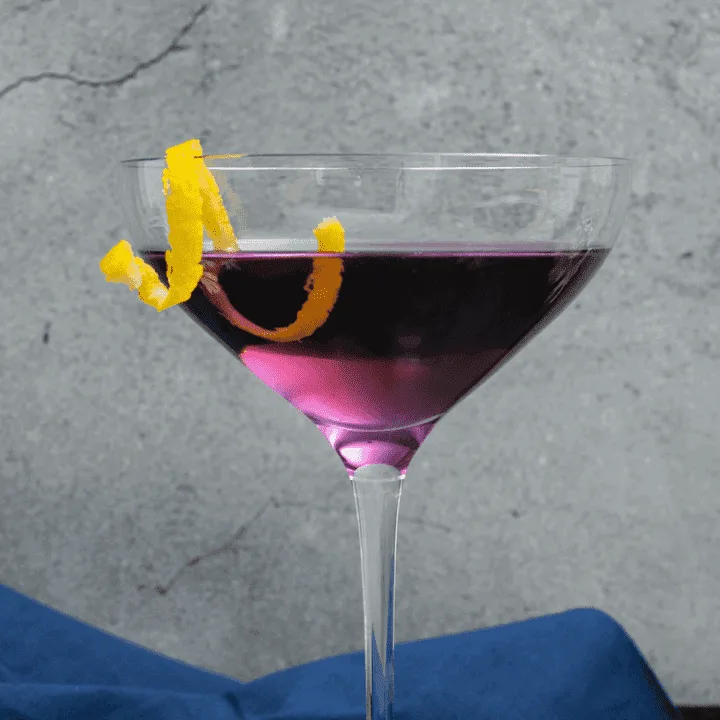 Blue Moon Cocktail
Looking for a gin based cocktail that's both lemony and flowery? Look no further than the Blue Moon Cocktail! This playful drink is perfect for anyone who loves a good mix of sweet and sour flavors. Made with gin, Creme de Violette, lemon juice, and simple syrup, this cocktail is sure to satisfy your cravings. And with a lemon twist garnish, it's just as pretty as it is delicious! So next time you're in the mood for something special, be sure to give the Blue Moon Cocktail a try.
Ingredients
2 oz gin
1/2 oz lemon juice
1/2 oz simple syrup, OPTIONAL - to tone down acidity if desired
lemon twist, to garnish
Instructions
Add ice to a shaker and pour in liquid ingredients
Shake for about 15 seconds or until shaker feels cold
Strain drink into a wide rimmed glass with a long stem (we like coupe or martini glasses for this cocktail)
Garnish with lemon twist and enjoy!
Nutrition Information:
Yield:

1
Serving Size:

1 grams
Amount Per Serving:
Calories:

181
Total Fat:

0g
Saturated Fat:

0g
Trans Fat:

0g
Unsaturated Fat:

0g
Cholesterol:

0mg
Sodium:

6mg
Carbohydrates:

15g
Fiber:

2g
Sugar:

9g
Protein:

1g